Big stick-on name labels provide you with a bright, simple way to name all your children's belongings.
Ideal for younger children who like to see their name in bigger print. These labels will help your kids confidently manage their belongings. They are made from a high grade vinyl that will stick to most clean smooth surfaces. They are ideal for lunch boxes, drink bottles, pencils, and sporting gear and are dishwasher and microwave safe.
Don't need something quite as big as these? Then maybe our Small Name Labels would suit your needs.
Remove the label from the backing sheet and place onto the clean, dry, smooth surface of the item you need to name.
Rub over the label firmly with the flat of your thumb nail.
Do not wash the label or put it in water for 48 hours.
Cleaning the surface where the label is to be stuck with methylated spirits first will ensure it is really clean and improve the adhesive bond.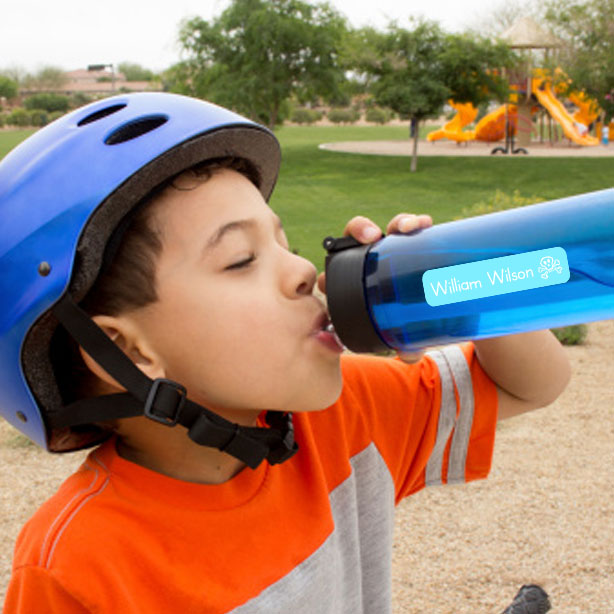 1) What can I use big name labels on?

Big name labels can used on anything with a clean, hard, smooth surface such as most plastics, metals, glass and paper. There are many different types of plastics and many contain silicones that are designed to give the plastic a slippery, non-stick surface. Our labels are not suitable for use on these types of soft plastics.

2) Why do I have to wait 48 hours before putting my name labels in water?

The adhesive bonding agent on the back of the label gets stronger over that time. If you immerse them in water before they have bonded strongly they are more likely to come off.

3) Why do I have to rub the labels with my thumb nail?

The adhesive is encapsulated in tiny 'bubbles' and by rubbing firmly you are breaking them open and letting the adhesive bonding agent out.

4) Can I get them off?

Yes. Simply use a finger nail to lift a corner and then pull it off.
All orders are dispatched from our office within a maximum of 4 business days using Royal Mail first class postage.
Orders are delivered to your letter box. The actual delivery time will depend on where you live and how quickly Royal Mail can deliver to you location. Unfortunately My Name Label has no control over Royal Mail delivery times.
Find out more about our shipping and return policies by visiting the Help page.
Meet the Designer

Meet the Designer | Lucinda Budden
Our graphic designer Lucinda has a keenly creative eye and our stylish fun labels wouldn't be what they are without our lovely Lu!
Name Label Design Tips & Advice