Say goodbye to lost property with easy name labels for clothing.
Standard size iron-on clothing labels are ideal for primary school children and the elderly in aged care. The larger size ensures that clothing is easily identifiable and returned to it's owner if lost. They also help kids to identify their own belongings at school where uniforms can so easily get mixed up. Less worry about losing things makes for happy kids (and parents).
Need something for smaller items? Maybe our Mini Iron-On Labels are what you are need. Or would you like some of each? Our Mixed Clothing Label Pack gives you a mixture of sizes, is great value and includes our Stick-On Clothing Labels which are perfect if you want something quick and easy to apply.
WARNING: Never place your iron directly onto the label as it will melt and stick to the bottom of the iron.
To Apply a Label
Use a hot, dry iron – NO steam.
Remove the label from the backing sheet and place in position on the clothing.
Place the non-stick baking paper supplied with your labels over the label.
Place the iron onto the label and press firmly for 8-10 seconds. This time may vary from one iron to another so please test this to get the heat/time required for your iron right.
Allow the paper to cool before removing it from over the label.
The heat from the iron melts the label and activates the adhesive. Then as the label cools it firms up again with the adhesive activated. When it is attached correctly you will see the texture of the fabric impressed through the label.
To Remove a Label
You will need to reverse the process you used to apply the label. Place the baking paper provided over the label and reheat the label with a hot dry iron.
Immediately remove the baking paper and while the label is still hot pull it from a corner. Use a finger nail or a blunt knife to do this but please be careful not to burn yourself. You need to do this before the label cools down.
The label will be soft and stretchy while it is hot and should peel away from the clothing.
As it cools it may break and you will have to repeat this process until all bits of the label have been removed.
Remember these labels are designed to be permanent. If you would like a temporary label try our Stick-on Clothing Labels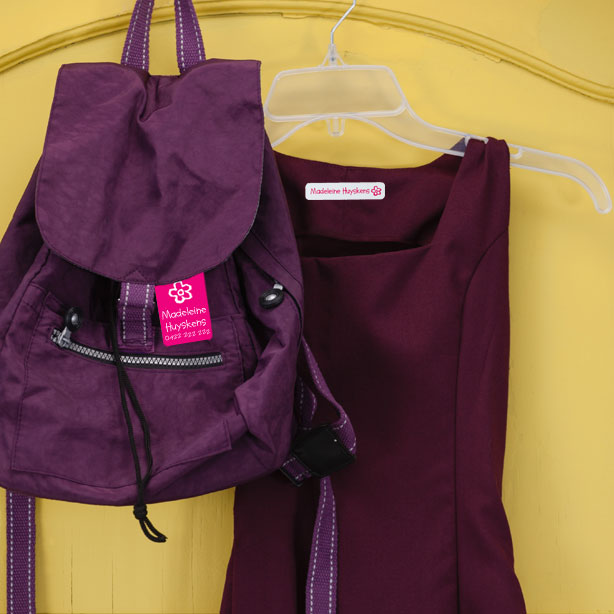 1) Why are my iron-on clothing labels coming off in the wash? I did follow the instructions when I applied them.

We find that the main reason clothing labels come off is because either not enough heat has been used or the iron was not left on the label for long enough. If the back surface of the label that has come off is still shiny then the adhesive has not been activated. The settings on every iron are a little different so it us best to use one of the extra labels we provide to do a couple of test runs first. Getting the heat/time right for your iron is critical.

2) I have lost the paper you gave me to use with my iron-on labels. Can you tell me what it is?

It is non-stick baking paper, either Glad Bake or Multix Bake (in Australia) which can be bought at the supermarket.

3) I need to remove a label from some clothing. How can I get it off?

Please see instructions under the 'How to Apply' tab.
All orders are dispatched from our office within a maximum of 4 business days using Royal Mail first class postage.
Orders are delivered to your letter box. The actual delivery time will depend on where you live and how quickly Royal Mail can deliver to you location. Unfortunately My Name Label has no control over Royal Mail delivery times.
Find out more about our shipping and return policies by visiting the Help page.
Meet the Designer

Meet the Designer | Lucinda Budden
Our graphic designer Lucinda has a keenly creative eye and our stylish fun labels wouldn't be what they are without our lovely Lu!
Name Label Design Tips & Advice